Round Up
Thursday, August 21
6:30 – 7:30 pm
It's that time again! Round Up is quickly approaching and we want to invite all of our existing Scouts and their parents to attend this informational meeting. PLUS, if you know of someone (a friend at school, cousin, next door neighbor, etc…) that would be interested in joining, please let them know! We have a fun year planned and we hope to see everyone Thursday night. Here is the agenda for this informational meeting:
Upcoming events for the 2014-2015 school year
Register your Scout
Sign up for the new email distribution list (or sign up at the bottom of this page)
While we talk to the parents, the existing Scouts and new Scouts will be able to play a game outdoors
Existing Scouts: Please wear your Class A uniform and your belt containing your belt loops so that you can show the new Scouts what they can look forward to this year
---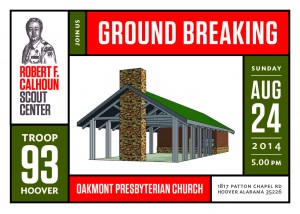 Scout Center Groundbreaking
Sunday, August 24
5:00 pm
Oakmont Presbyterian Church in the back parking lot
Pack and Troop 93 are going to have their own building to meet in! Please come out and support this fantastic groundbreaking event. The construction should begin by the end of this year and if all goes well, we could be meeting in our new building by the end of the school year. A hot dog/hamburger dinner will be held after the ceremony. If you're interested in attending, please email Doug Green so that we will have enough food for everyone.
---
First Pack Meeting of the 2014-2015 School Year!
Monday, August 25
6:30 – 7:30 pm
We hope you all had a great summer! It is back to school time and our first Pack Meeting of the year is approaching quickly on Monday, August 25th. Please forward Rosa Hill the list of belt loops and pins that your Scout has completed since our last Pack meeting in May by Friday, August 15th. If you Scout attended Cub Scout Day Camp, Rosa has the list of what they earned at camp already.
---